Trees & Art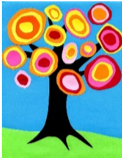 Trees and Art
4.00pm Tuesday 22 January
Our Tu B'Shvat event with our art teacher, Ruth Lenk.
Though trees get special attention at this time of year, they are something of a powerful theme for many artists.
For Tu b'Shvat, Ruth will take us on a tour of the arboreal obsessions and notable tree cameos in art history, with a few contemporary takes thrown in to spice things up.
Then, we will have a go at creating our own tree masterpiece.
Price includes refreshments and supplies
Pre-registration essential.
Related Events