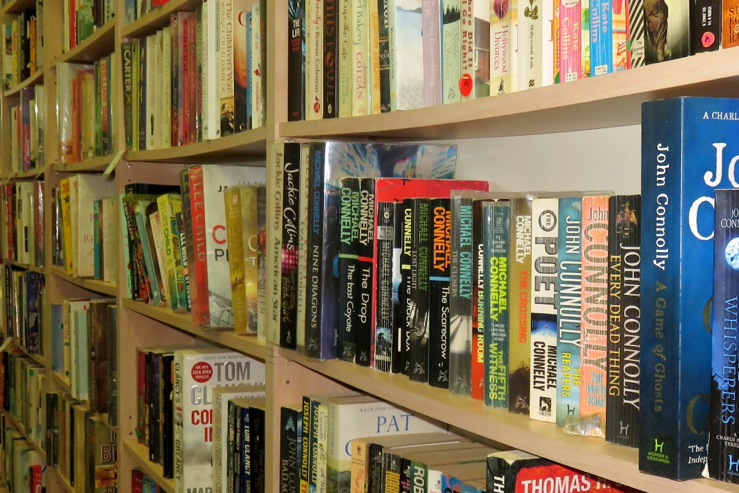 Gura Family Memorial Library 
Open Sunday to Thursday mornings 8.30am to 12.30am
Beit Oleh America Netanya AACI is very proud to house the Gura Family Memorial Library with over 6000 paperback books. The generosity of the Gura family has enriched the lives of so many English speakers in Netanya and ensured the continuation of this incredible hidden gem of a library.

All members of Netanya AACI are invited to visit and browse the shelves. Use of the library is free for all members.
Our selection of books is frequently updated and list of new books are available monthly from the librarian on duty. The library is staffed totally by volunteers.
We welcome donations of paperbacks in good condition.
Once every few months we hold a book sale of culled books and doubles that have been donated.   Check out our calendar pages for the date of our next book sale.


Mobile Book Service 

We are very proud of the service for our members who cannot manage the access to our building. Our book mobile (instead of you coming to our library, the library comes to you once a month) has been very warmly received. To sign up for this service, please call our offices 09 8330950. We also need more friendly volunteers to join our team – we especially need drivers.
To volunteer, please contact our coordinator Yael Rahum.
AACI e-BOOKS e-library
AACI Launches Israel's First English-Language E-Book Library
The Association of Americans and Canadians in Israel proudly announces the opening of the AACI Sharon Woodrow Memorial E-Book Library, the first English-language virtual library in Israel and one of the first e-book libraries in any language in the country. 
Open to members of the organization, the library, a service of Freading from Library Ideas (http://www.libraryideas.com), contains 50,000 titles for all ages from more than 1,000 trade publishers. Patrons of the library will be able to read the books they choose on computers and mobile devices with Freading's iPhone, iPad, Kindle Fire and Android apps.

How to access free books 
1    To get started you will need a digital reader.
2    Call or send e-mail to Netanya AACI membership department membership@netanyaaaci.org.il
and ask for your National AACI membership number. 
3    Use your AACI membership number to login to the AACI Freading Ebooks Library at URL: http://aaci.freading.com/index

Click for instruction using the options below:-
    Instructions for devices 
    Instructions for computers 
    Frequently asked questions 

Josie Arbel, Director of Absorption Services for AACI, noted that, "The e-book library complements AACI's extensive print libraries around the country and our Library for the Visually Impaired serving English speakers around Israel. This new resource will expand the offerings available and extends our ability to offer English-language reading material to all of our members throughout the country in a way that leverages the technological capabilities of the twenty-first century."

Brian Downing, President of Library Ideas, is excited about this foray into the Israeli market. "We are delighted to provide English-speaking Israelis with the opportunity to read outstanding fiction and non-fiction," he said. "We are proud to be part of this groundbreaking effort in the Middle East."

David London, executive director of AACI, expressed thanks to the family of the late Sharon Woodrow, particularly her sister, Diane Romm, who approached the organization with the idea of the e-book library. A native of New York and an avid reader, Sharon married Paul Glaser and moved with him to Haifa in 1990, where she passed away in 2014.

About Library Ideas
Based in Fairfax, Virginia, the mission of Library Ideas is to provide innovative and turnkey digital solutions to libraries around the world. Founded in 2008, the company has a presence in over 5,000 libraries. In 2011, it was named one of the top 100 companies in the digital content industry.
Book Sale
9.00am to 12.30pm Wednesday 20 February
To refresh the selection on the shelves of the Gura Family Memorial Library, we periodically cull duplicate copies and otherwise unneeded books. The upcoming book sale will again provide browsers with interesting offerings at bargain prices.
Proceeds from our book sales are used to acquire new books for the library.